Achievement Award Winner
NATURAL STONES Awarded
CROWN ACHIEVEMENT AWARD at Pattaya... From RAK Ceramics India. Award winning for 3rd Ranker for Top is Sales in India and 1st In Maharashtra..
Welcome to NATURAL STONE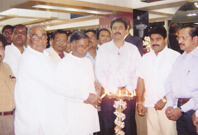 The "Natural Granite " Largest Name
in Stone Supplier in Kolhapur with Granite, Marble, Kota, etc. Since 1991, established and founded by Late.Shri Ramswarupji Bangad, after success of Marble, Granite start.... The 'Natural Marble' established by Mr. Nandkishor K Gattani in 2001 with wide range of Ceramics and Vitrified Tiles, after Great 4 years, in 2005 Start with RAK CERAMICS UAE.
RAK offered imported wide range of sizes and varieties of Floor and wall Tiles and sanitaryware. RAK is world's Number 1 Brand start in Kolhapur 1st time by Natural Marble, Now RAK is Number 1 in Kolhapur because of Architect 1st refers only RAK Brand, RAK offered Best Quality Tiles and Sanitaryware in the World. After success,
The 'Natural Stone' Started in 2007 into Kolhapur City, now Natural Stone direct import from RAK Ceramics UAE. Now, The Natural Stone is largest sale of Ceramic and vitrified Tiles in Maharashtra of RAK. The firm established by Mr. Shrivallabh R Bangad. after Flooring and Sanitaryware Start in 2011, Bathroom and Kitchen Fittings of World's most brand of KLUDI with RAK. KLUDIRAK supplies high range of Bathing With high grade material imported from germany, Now after superior Floor and Sanitaryware start Wooden Flooring with PERGO. world leader in laminate flooring.
The 'Natural Marketing' established by Mr. Neeraj Chandak. http:// www.pergo.com also with 'Shinhan Wall Coverings' lots of design of Wallpapers and with this Global Companies we starting one of Largest World Brand TOTO this is Japanese Company supplies high range of Sanitaryware and bathing http://asia.toto.com